What is Arcoxia?
Arcoxia, or Etoricoxib, is a preparation that features multi-sided action. The drug is prescribed for patients who need the treatment of acute or chronic rheumatoid or osteoarthritis symptoms, ankylosing spondylitis, chronic musculoskeletal pain, gouty arthritis or simple acute pain. The treatment is classified as cyclooxygenase-2 inhibitor that reduces pain and eliminates inflammation blocking COX-2 in the organism. Comparing Arcoxia to NSAIDs, the drug produces fewer risks of stomach ulcer occurrence. The medication is not habit-forming, though its misuse can cause severe complications.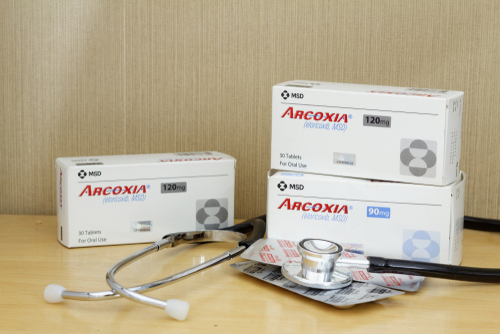 Recommendations for Use
As any other powerful treatment, Arcoxia medication course should be taken thoroughly following doctor's recommendations. The medication dose will depend on the health condition of the patient, type and severity of his/her disorders. Most commonly the dose ranges from 60 mg a day for osteoarthritis treatment, 90 mg for rheumatoid arthritis and ankylosing spondylitis and 120 mg to relieve gout attacks. The daily dose prescribed should not be increased by the patient, since he/she won't feel an extra effect, but can only activate side effects appearance. Administer each Arcoxia tablet with a full glass of water at the same time daily. Do not prolong the treatment course on your own; do not stop using Arcoxia abruptly either, since both violations can lead to diverse complications.

In case you have missed one Arcoxia dose, take it when possible, but skip it if it is almost the time for another dose. Never double or increase the dose to warn the medication overuse.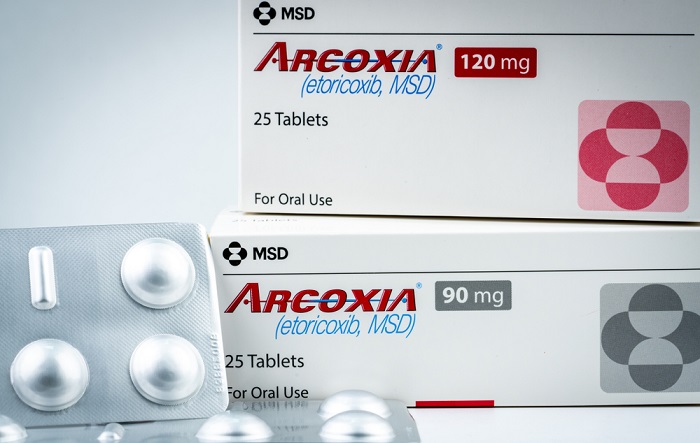 Precautions and Contraindications
Consult your healthcare provider before the beginning of the medication intake to make sure you will be safe and sound administering the drug. Do not use Arcoxia in the following cases:

• You are allergic to any of its ingredients or related drugs;
• The medication expiry date is over;
• You have had a stroke, heart attack, bypass surgery, heart failure, angina and similar conditions;
• You have had uncontrolled blood pressure, coronary artery disorder, diabetes, high cholesterol level and other complications.

Arcoxia is not recommended for children. Besides, pregnant and breastfeeding women should avoid the drug intake since it may cause serious birth defects and affect the health condition of unborn or nursing children. Additionally, to ensure a high safety and effectiveness level of the treatment course in your exact condition, inform your doctor about all the other health complications you have including:

• Angina;
• Blocked heart artery;
• Heart attack;
• Kidney or liver disease;
• Blocked arteries of the extremities;
• High blood pressure and others.
Drug Interactions
A wide range of other medications may interact with Arcoxia, so provide a medical specialist with a complete list of other treatments you are taking. Pay special attention to birth control pills, water drugs, remedies to warn blood clots, antibiotics to eliminate infection, hormone replacement therapy, immune system suppressants, ACE inhibitors, depression treatments and other prescription and OTC drugs.
Side Effects
Follow the doctor's prescription taking Arcoxia in order to reduce the possibility of drug misuse and occurrence of related complications. Seek emergency medical assistance the moment you have noticed any symptoms of drug overuse. They include:

• Severe allergic reactions;
• Heartburn;
• Nausea, vomiting, diarrhea;
• Headache, dizziness, light-headedness;
• Increased blood pressure;
• Fatigue;
• Insomnia;
• Drowsiness and others.